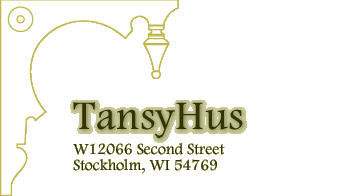 >About TansyHus
>Things To Do
> Photo Gallery
>Rental Information

>Home

TansyHus History
Make memories with family and friends in a house made for gathering. TansyHus was built in 1904 by John Lindgren, the village blacksmith. John's blacksmith shop was in the location now occupied by the Bogus Cafe on Spring street.
John & Hannah had three children Inez, Irene, and Milton.
In 2009 John Lindgren and Hannah's grandchildren shared their memories and stories of life in their family home. The adjacent photography was given to the present owners during their visit.
Construction of the house is typical for the time. The exterior walls were 'back plastered' which means there are two layers of lath and plaster in all of the exterior wall for extra insulation. Ceilings on the first floor are 9' high. The large parlor window on the first floor with the stained glass transom is original to the 1904 house.
The grandchildren told of an old grape arbor on the down river side yard. The plant produced an abundance of Concord grapes each year. Grandma Lindgren peeled potatoes in what is now the downstairs bathroom.
The small concrete block shed adjacent to the present parking area housed a small one-car garage. The center portion was a chicken coop and front portion served as a wood shed. A chicken run extended east to the neighbors yard.
Uncle Milton, who married later in life, occupied what is now the second floor sleeping porch (Orion Room) the year round. The second floor plan is much the same today as it was in the early 1900s.
From the 1960s the house endured through a series of owners and renters. Well intentioned but unfortunate attempts to modernize included window removal and replacement with 'modern' windows, a large pocket door was removed. Sadly original wood trims were removed in order to install tasteless wood paneling.
In 2006 the house enjoyed a new future under the thoughtful eye of an owner architect and his spouse. Today the same TansyHus owners continue with upgrades in an effort to enhance the comfort, charm and vision of the original 1904 owners.