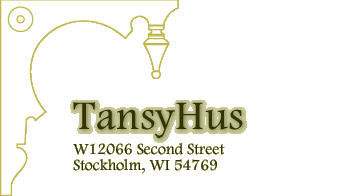 >About TansyHus
>Things To Do
> Photo Gallery
>Rental Information
About TansyHus, a Vacation Rental
This turn of the century home sits high on a hill in the tiny Village of Stockholm, Wisconsin. TansyHus is just minutes from the Twin Cities International Airport, or the city of Rochester, Minnesota. Driving time from Madison, Wisconsin is approximately 3.5 hours.
Stockholm offers a welcome respite from the hectic pace of daily life. Shops and restaurants are walking distance from the front door. The Stockholm area is a popular destination for vacationers seeking natural beauty and an affable small town spirit. Lake Pepin, just blocks away, is a place for sailing, fishing and recreational boating.
TansyHus, a Vacation Rental, offers generous accommodations for 6 to 8 guests. Enjoy a sparking newer, fully equipped kitchen, with adjacent 3/4 bath. The formal dining room is a comfortable spot to linger over morning coffee or an evening meal. A sliding door provides access to the sprawling side yard. The front parlor is graced by an antique picture window framing a view of the wooded hillside. This room has a sliding pocket door for privacy and a double bed fold-out sofa. For winter guest's comfort there is a propane parlor stove.
On the second floor there are Two comfortable bedrooms, a sleeping porch (Orion Room), plus a full bath with tub/shower. The Lake room, with a peek-a-boo view of Lake Pepin, is furnished with twin beds. The Norslund room is outfitted with a king-sized Sleep Number bed. The Orion Room is equipped with a queen bed, the room has numerous windows and views of the towering bluffs and for night-time star gazing. The home is equipped with central air conditioning and heat.
You can make yourself at home in TansyHus in this charming Scandinavian Village of Stockholm, Wisconsin.