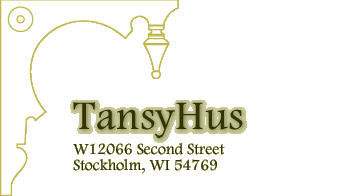 >About TansyHus
> Photo Gallery
>Vacation Rental no longer available
Things to do...
Be part of Village life
Founded in the 1850s by Swedish brothers Erik and Jacob Petterson, Stockholm was a site where frontier lumber and settler's wheat were loaded on steamboats for the journey down river. Later years brought the railroad to the banks of the river, and the tracks are still in use, moving goods up and down the Mississippi.
Today, majestic river barges share scenic Lake Pepin with pleasure craft of all types and descriptions. The little villages of Stockholm, Pepin, and Maiden Rock snuggle against the towering river bluffs, offering a relaxed pace of life. The geographically unique area is rich with year-round natural beauty.
For more than 30 years the Village has hosted the Stockholm Art Fair on the third Saturday in July. The fair connects more than 100 regional and national artists and craftspeople with art-loving visitors. On the first weekend in December the Christmas Holiday is celebrated with special festivities. Special events take place in the neighboring towns and villages throughout the season.
Some suggested things to do during your stay at TansyHus
Check programs and schedules on the links below.Widespot Performing Art Center is a new addition to area arts venues.
Hike the Maiden Rock Bluff Natural Area, a West Wisconsin Land Trust parcel
Bird watch along the Mississippi River flyway, a major migration route
Visit local historic sites and museums, galleries and boutiques
Borrow a Blue Bicycle in the village and explore on two wheels
Drive or cycle picturesque back roads among the rolling hills and bluffs of the great river's 'driftless' area
Enjoy live music or go dancing at local venues
Attend the regions most popular 'Pizza Night' out on the green on Tuesdays
Discover artists' studios during Spring and Fall Art Tours
Relax on the front porch
Curl up with a good book
Create a home-cooked meal using fresh, organically grown ingredients
Make memories with family & friends in a house built and furnished for gathering
Links
TansyHus on Vacation Rentals.com

WideSpot Performing Art Center

National Eagle Center, Wabasha

Birding on the Mississippi Flyway