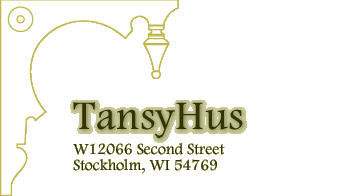 >About TansyHus
>Things To Do
> Photo Gallery
> TansyHus History
Rental Information
TansyHus is available for rent by the weekend (2-night minimum), week or month. Call for special rates during from January to the end of March. Fees, deposits and rental information can be obtained by contacting TansyHus owner, Sandra Myklebust atsmyklebust@tansyhus.com, P. O. Box 610, Stockholm, WI 54769. We encourage you to call the cell number below for a rapid response or use the email address below. If TansyHus is right for your vacation getaway, a Lease/Rental Agreement will be sent for your review.
RATES:
Call Sandra (626-523-8910) for current rates
SALES TAX (5.5%)
Modest Housekeeping Fee applies to all stays.
TansyHus is a great vacation option in Pepin County, Wisconsin. Our rates are competitive. We look forward to sharing this special place and lovely community with many new friends and guests.
626-523-8910 cell
Email: smyklebust@tansyhus.com

TansyHus may accept a pet. Please call to discuss the terms and conditions regarding your pet.
Prince Charlie
The premises, house and grounds are non-smoking